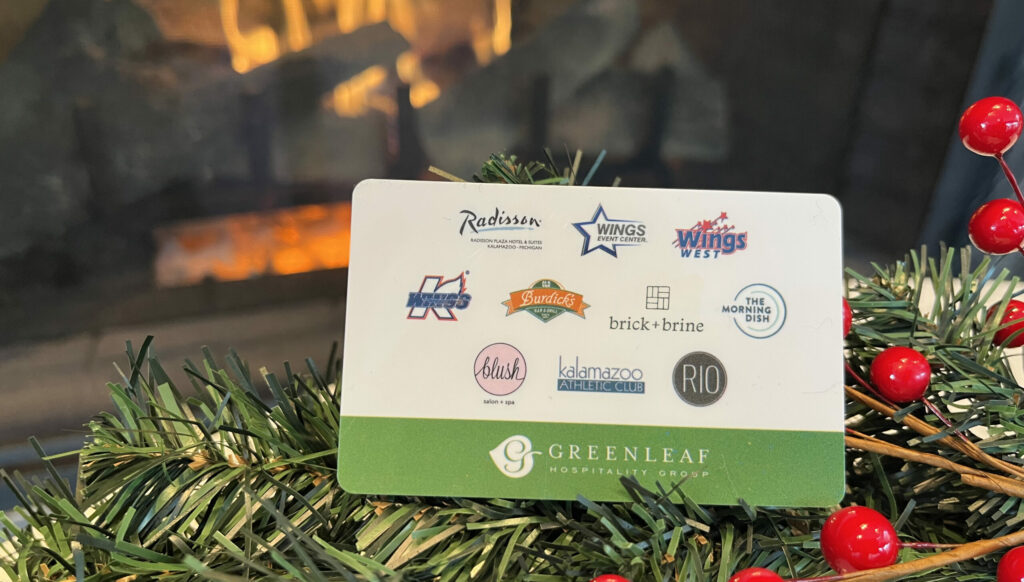 Give the gift of hospitality, sports, dining & entertainment right here in Kalamazoo!
Now through December 24, 2023, when you buy a $25 gift card at a participating GHG location, we'll gift you a $5 gift card for FREE!
Greenleaf Hospitality Group gift cards are honored at the following locations:
Old Burdick's Bar & Grill (Downtown & Wings West), Brick and Brine, The Morning Dish, Radisson Plaza Hotel and Suites at Kalamazoo Center, Blush Salon + Spa, Kalamazoo Athletic Club, RIO Gift Shop, Wings Event Center, Kalamazoo Wings, and Wings West
Offer runs until Christmas Eve (12/24) at all participating Greenleaf Hospitality Group outlets. This gift card deal is only valid for in-person purchases and not applicable to e-gift card purchases.
—
Out of town or looking for a great last-minute gift? Purchase an E-Gift Card!
Skip the lines and the shipping times in the days leading up to the holidays by purchasing a Greenleaf Hospitality Group e–gift card. You can even schedule your e–gift to be delivered digitally on your date of choice!
Discounts or promotions are not valid on e-gift card purchases.
Terms and conditions apply to all gift GHG cards – for more details please visit giftcards.greenleafhospitalitygroup.com.