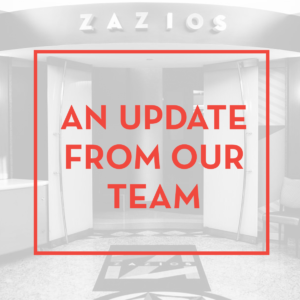 With a new year approaching, we're excited to announce a new restaurant concept will be following suit!
Our Zazios team has spent the past 16 years making memories, celebrating, and most importantly, learning how we can best serve you – and we've loved every minute of it! While it is always sad to close one chapter, we are passionate about taking our experiences with you over the years and applying it to a brand new restaurant with a brand new concept in the year 2021.
Zazios, located on the Lobby Level of Radisson Plaza Hotel and Suites, will have our final day of service on Saturday, November 14, 2020. Our team will be temporarily shifting upstairs to continue collaboration with Webster's Prime beginning November 17, 2020.
To ensure we continue to serve you, our local and traveling guests, Webster's Prime will be featuring a steak, seafood, and grill focused menu. You will continue to see some Zazios favorites still available on the menu!
In the meantime, we invite you to dine with us at Zazios through November 14th to commemorate the many great years. Each week until closing, we are offering a unique tasting menu featuring Zazios classics and guest favorites. View this week's $39 tasting menu at
https://bit.ly/3dKz9DE
.
During the development of the new restaurant concept and this transition, we will be keeping three priorities top of mind:
Guest Feedback: We listened to your feedback, we're continuing to listen to your feedback, and it's about time we use it in a big way!
Consistency: Both Webster's Prime and Zazios share a common core value – consistency in offering a world class dining experience – and we promise to keep that top of mind.
Communication: There's been a lot of change in 2020, and it can be hard to keep up. We are dedicated to keeping you in the know of what's currently being offered, and what's on the horizon.
We look forward to celebrating our last chapter as Zazios, and beginning a new one with you in the new restaurant during the Summer of 2021. Cheers!